ESSSC SHELTIE RESCUE
ESSSC has an active and committed rescue program. Our club members who handle rescue are also breed representatives for the Seattle Purebred Dog Rescue. Since we began a serious rescue program in 1987, we have placed over 400 Shelties into new homes.
Our rescue is done through SPDR, using their application forms. Our rescue is basically a referral service. We have adopters waiting for Shelties, and when one becomes available either in a shelter or from private owners, we can refer the adopter to the shelter or owner. We do foster dogs, but only when necessary and usually only dogs who have been in shelters and are facing euthanasia because their time is up. We have also fostered injured or ill dogs expected to recover, as well as mothers with puppies (puppies were half Sheltie). Club members will take back any dogs that they have bred.
Our average rescue Sheltie is between 3 to 6 years old. The most common color is sable and white, although we have had every color possible in the many years we have been rescuing Shelties. Most of our potential adopters ask for a sable female around one year old. We get very few of those, and, as you might imagine, there is always a waiting list. We really need good homes for our senior citizens, quiet, well-behaved Shelties who have a few good years left. About half of our Shelties come from shelters and half from private parties. Most in the shelter are lost; a few are surrendered by their owners. All must be spayed or neutered before being placed into a new home. We do not accept dogs with serious health or behavioral problems or dogs that are very old.
You may wonder why owners surrender their Sheltie to a shelter or place them up for adoption. The most common reason seems to be lack of time - they didn't realize how much time it takes to be a responsible dog owner. Sometimes there is a new baby in the family, or a divorce, or people are moving to a place where they can't take their dog. Sometimes the dog is causing a problem with excessive barking (a Sheltie trait), in which case we recommend having the dog's bark surgically quietened. Everyone is much happier after "bark softening," especially the dog who can now bark at will and not be punished. As stated above, we do not accept dogs with serious behavioral or health problems.
If you are interested in adopting a Sheltie, you will need to submit an adoption application from SPDR. You may obtain an application by printing it from the SPDR website, www.spdrdogs.org, or by phoning 206-654-1117. Donations for adopted Shelties usually run from $50 to $125. Donations to SPDR are tax deductible and can be directed to the Sheltie breed fund within SPDR. The dog you adopt will have been spayed or neutered and have had basic immunizations. If you have children under 6 years of age, we can't recommend adopting an adult Sheltie unless we know that it has been around small children and is good with them. Adult Shelties who have not been raised with small children generally do not enjoy them and will protect themselves if abused. We require a fenced yard for our rescue Shelties. We also only work in western Washington. If you live outside this area please locate a rescue in your area. Sheltie rescue information for all areas of the country may be obtained by visiting the rescue page of the Sheltie Rescue by state.
If you need to find a new home for a Sheltie you own, please submit a listing agreement from SPDR (form can be printed from SPDR website). This is a form with information that you provide about your dog that will help us choose the best fit from our potential adopters. We will refer people to you. You keep your dog while the process is ongoing and approve the adopter. We cannot take Shelties that someone has found wandering as lost dogs. State laws require a finder to either turn the dog over to the local shelter (where it may be placed up for adoption after a strayhold period) or advertise for 30 days in such manner that an owner looking for the dog can be expected to see the ad.
Email: Lynn Erckmann at ESSSC Sheltie Rescue for info on available Shelties.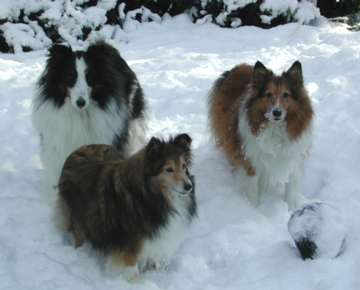 Some of the rescue Shelties live or have lived at the home of Lynn Erckmann, our rescue chairperson.
---
In Memory

This little Sheltie did not have a happy ending. We will always remember you. October 2011